The Threshold Learning Outcome on self-management for the Bachelor of Laws degree: A proposed focus for teaching strategies in the first year law curriculum
Anna Huggins

University of New South Wales
Abstract
The Australian Learning and Teaching Council (ALTC) Discipline Scholars for Law, Professors Sally Kift and Mark Israel, articulated six Threshold Learning Outcomes (TLOs) for the Bachelor of Laws degree as part of the ALTC's 2010 project on Learning and Teaching Academic Standards. One of these TLOs promotes the learning, teaching and assessment of self-management skills in Australian law schools. This paper explores the concept of self-management and how it can be relevantly applied in the first year of legal education. Recent literature from the United States (US) and Australia provides insights into the types of issues facing law students, as well as potential antidotes to these problems. Based on these findings, I argue that designing a pedagogical framework for the first year law curriculum that promotes students' connection with their intrinsic interests, values, motivations and purposes will facilitate student success in terms of their personal well-being, ethical dispositions and academic engagement.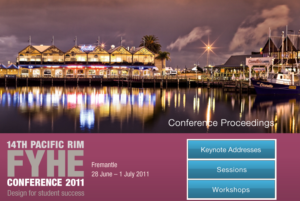 How to Cite
HUGGINS, Anna. The Threshold Learning Outcome on self-management for the Bachelor of Laws degree: A proposed focus for teaching strategies in the first year law curriculum.
The International Journal of the First Year in Higher Education
, [S.l.], v. 2, n. 2, p. 23-34, july 2011. ISSN 1838-2959. Available at: <
https://fyhejournal.com/article/view/82
>. Date accessed: 18 aug. 2018. doi:
https://doi.org/10.5204/intjfyhe.v2i2.82
.
Keywords
legal education, Threshold Learning Outcomes, ALTC,
Since 2015-11-27
Until 2015-11-27: