An Initial Exploration of the Association between Psychological Distress and Sedentary Behaviour in First Year Undergraduates. A Practice Report
Charmaine Graham

University of South Australia

Amanda Richardson

University of South Australia

Sharron King

University of South Australia

Belinda Chiera

University of South Australia

Tim Olds

University of South Australia
Abstract
University students are reported to have a higher prevalence of psychological distress than the general population. Consequently, research surrounding factors that may contribute to poor mental health of students is imperative in order to identify interventions for this at-risk population. Previous research has determined that sedentary behaviour is associated with physical health, with an emerging focus on the association between sedentary behaviour and mental health. As the role of student consists of primarily sedentary behaviours such as reading, writing and computer use, the relationship between these activities and student mental wellbeing is particularly relevant. The presentation reported on the findings of study conducted on a sample of first year undergraduates and their reported levels of psychological distress and use of time. The findings highlight the diverse and demanding lifestyles of today's student and the need for further research into student mental well-being.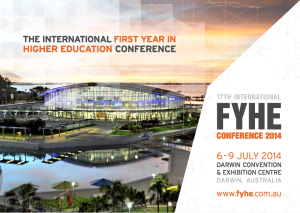 How to Cite
GRAHAM, Charmaine et al. An Initial Exploration of the Association between Psychological Distress and Sedentary Behaviour in First Year Undergraduates. A Practice Report.
The International Journal of the First Year in Higher Education
, [S.l.], v. 5, n. 2, p. 95-101, june 2014. ISSN 1838-2959. Available at: <
http://fyhejournal.com/article/view/238
>. Date accessed: 16 aug. 2018. doi:
https://doi.org/10.5204/intjfyhe.v5i2.238
.
Keywords
psychological distress, student wellbeing
Until 2015-11-27:
Abstract Views : 1995
PDF Views : 464