Same-same but different: integrating central university support and faculty-specific knowledge for mentor training. A Practice Report
Deborah Rodrigo

The University of Sydney

Cassie Khamis

The University of Sydney

Peter Lead

The University of Sydney

Zinnia Sahukar

The University of Sydney

Nadia McDonagh

The University of Sydney

Melanie Nguyen

The University of Sydney
Abstract
Mentoring literature often cites a tension between local initiatives that target the needs of specific groups and more efficient centralised programs addressing common concerns across a larger population. For several years, the University of Sydney has had a Mentoring Network consisting of the faculties of Arts and Social Sciences, Health Sciences, Science, Sydney Law School and the Business School. These faculties have worked together to develop a community of best practice for mentoring programs at our large, multi-campus institution, and for the past two years have included a representative from Student Support Services to incorporate a centralised support component into their faculty-specific training programs. This Practice Report showcases the work of the University of Sydney Mentoring Network in combining central university services with faculty-based mentoring.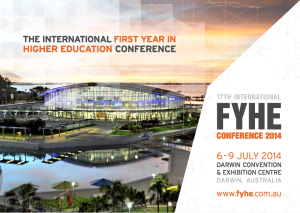 How to Cite
RODRIGO, Deborah et al. Same-same but different: integrating central university support and faculty-specific knowledge for mentor training. A Practice Report.
The International Journal of the First Year in Higher Education
, [S.l.], v. 5, n. 2, p. 111-117, june 2014. ISSN 1838-2959. Available at: <
http://fyhejournal.com/article/view/236
>. Date accessed: 16 aug. 2018. doi:
https://doi.org/10.5204/intjfyhe.v5i2.236
.
Keywords
peer mentoring, mentoring training
Until 2015-11-27:
Abstract Views : 1886
PDF Views : 456